The Above video was a short tour promo I assembled for Trivium & DevilDrivers North American Tour, the turnaround was pretty short around 24 hours, it's target would be 15 second Youtube ad Spots, you know the type you hate, I was also informed it may be broadcast in venues where the band were to play promoting the tour, it's a pretty great feeling to think your content is out there playing somewhere in the world.
Although promo videos are not the same as some of the original content video I've come to realize they are just as important to the bands and fans, typically I have a clip of the bands talking to promote the tour but sometimes there isn't the time, and they might find themselves wanting video to promote via Youtube or other social media sites, the short Adverts I've made over the years have slowly improved as I've learned what goes well and what doesn't, for the tour videos getting good quality clips and ones that sync well is the key.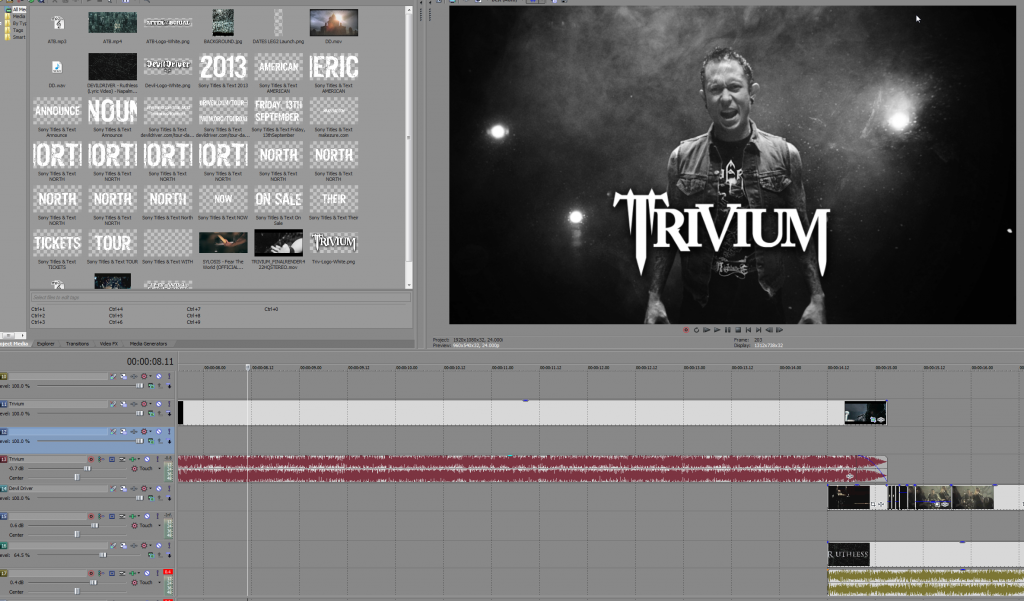 If the videos aren't provided it's and easier task creatively as I can scour Youtube watch the bands videos and find the best bits I like and what would flow musically, fortunately i had been provided with the full HD copy of Trivium's Strife just a week ago promoting the bands newest release, the other clips for Devildriver provided from the record label.
As i mentioned my first step is always Youtube, looking for interesting snippets from there videos, then it's on to finding the band logos often they are provided but sometimes they arnt and if they are there not always great !, this is where Photoshop comes in handy for scaling up low-res logos and cutting them from any background they may be applied to, i can sometimes spend upwards of an hour making sure the logos are correct and are crisp on the video .. because no-one wants to see a blury edged band logo ! .. well at least I don't, My next step is assembly sometimes this goes quick sometimes it doesn't this 15second clip probably took me about 3 hours to arrange the video how I liked it
The last stage is adding the tour dates or additional info, typically I render this out in Photoshop first if its a long list of dates purely because Sony Vegas's handling of large bodies of text is less than great, the last part is the additional info/scripted text i typically have this pre-approved to check the language is ok something like this :
TRIVIUM & DEVILDRIVER
ANNOUNCE
NORTH
AMERICAN
TOUR
TICKETS
ON
SALE
NOW

My Current style for this has been overblown text i think it can take some quite boring information and shove it right in your face ! as seen in the video.
so all in all i produced 4 variants of this video for various stages of the tour and it was a great experience to add to the list ! I also made an extended version including the support bands let me know what you think !